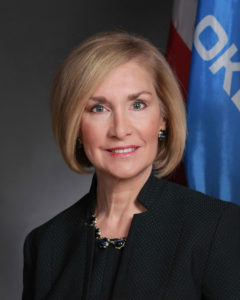 OKLAHOMA CITY –  State Rep. Tammy West, R-Oklahoma City, the chair of the Republican Caucus in the Oklahoma House of Representatives, recently completed the Darden School of Business Emerging Leaders' class. West also was one of the state's legislators to receive a 100% perfect score on this year's Research Institute for Economic Development (RIED) evaluation.
West was nominated by House Speaker Charles McCall, R-Atoka, to take part in the Emerging Legislative Leaders Program, a collaborative effort between the State Legislative Leaders Foundation and the Darden School of Business at the University of Virginia in Charlottesville. The class was held remotely this year from July 6-9.
"I'm so honored to have been selected to participate in this distinguished program," West said. "The class was both challenging and invigorating. Working with leaders from other states sharpened my own leadership skills and gave me a broader perspective for creating solutions to issues that not only affect Oklahomans but are common across the nation."
West wrote essays and was interviewed before being accepted into the program, which is designed specifically for the next generation of state legislative leaders. The four-day program is held each July and includes up to 50 emerging state legislative leaders from across the nation who take part in challenging classroom discussions, led by a team of professors at the Darden School of Business. The goal is to instill in participants a clear understanding of their responsibilities as custodians of the public's trust.
Since 2005, over 600 legislators have benefited from their experience in this program, with a significant number of them continuing their careers in public service. A number of them have been later been elected to state or federal offices or named to executive leadership positions.
West also was one of the state legislator's this year to receive a perfect score from the non-partisan RIED organization in its annual report. RIED puts out the evaluation of Oklahoma legislators based on their voting records in support of job creation, business interests, economic development and quality-of-life issues for the state.
"This RIED recognition not only means a lot to me personally," West said, "but I feel it shows my constituents that my work is in line with the values they sent me to the Capitol to uphold."
RIED was founded in 1997, following three years of detailed research and assessment by a joint task force made up of the Greater Oklahoma City Chamber of Commerce, the Tulsa Regional Chamber and the State Chamber of Oklahoma. Each year the organization analyzes thousands of pieces of legislation, selecting those that best support job, business and economic growth in the state. Each legislator's voting record is rated based on his or her position on this final list of bills.
This year, 10 bills were selected to evaluate legislators' pro-business, jobs and economic growth stance. These ranged from House Bill 3619, which prohibits municipalities and political subdivisions from adopting ordinances that would limit a consumer's choice of utilities, to House Bill 4018, which creates the Rural Broadband Expansion Act to facilitate the expansion of broadband internet services across the state. Other bills increase access to affordable medical care, protect Quality Jobs funding, remove limitations on fund matching for local development and Enterprise Zone incentive programs, allow for the recycling of oil and gas waste water, and protect from liability those who are involved in protecting the public during the COVID-19 crisis. West earned a 100% rating by supporting these pro-business pieces of legislation.
To see the full list of legislators that earned a perfect RIED score, go here: https://www.riedreport.com/2020-highest-scores. To see the 2020 report and the list of bills considered, go here: https://www.riedreport.com/sites/default/files/2020-06/2020_ried_report_brochure.pdf.
In the news: https://journalrecord.com/2020/07/17/state-rep-west-completes-emerging-leaders-class/